For any further information regarding our consulting and training services you can send a message by completing the form below or alternatively, you can email us at: info@uomoeambiente.com
Legal and operative site
Via Angrogna 16/A
10139 Turin (TO)

Turin Business Register Office – C.C.I.A.A. Turin REA TO – 1168640
Data Protection Officer (DPO) Eng. Gianluigi Carbone, e-mail: dpo@uomoeambiente.com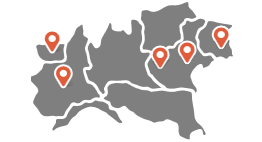 Turin office
Via Angrogna 16/A
10139 Turin (TO)
Phone./Fax +39 011 7428005
Aosta office
Rue de la Maladière 90 11020 Saint Christophe (AO)
Phone./Fax +39 0165 516453
Padua Office
Via Pila 7/A
35010 Loreggia (PD)
Phone./Fax +39 049 5014137
Verona Office
Via G. Marconi 2
37036 San Martino B.A. (VR)
Tel./Fax +39 045 8799386
Udine Office
Viale Mangiarotti 20
33033 Codroipo (UD)
Tel. 800.035.442
Contact Form
Please fill out the form and authorize the processing of data in accordance with the European Privacy Regulation EU/2016/679 (GDPR) for data processing.
"La collaborazione con Uomo e Ambiente, per una azienda di recente costituzione come la nostra, è stata certamente utile, fattiva e contemporaneamente discreta. Anche la consulenza on line è sempre stata disponibile e soddisfacente, con un buon rapporto di empatia con i suoi rappresentanti."
Marco Turretta – ALFA S.r.l. – SOCIETÀ DEL SERVIZIO IDRICO INTEGRATO VARESE
Click on ask for a consultation to receive personalized advice. To receive relevant news and promotions before everyone else click on sign up for the newsletter.